Oberon Heritage Doll Pram White/Navy
Get extras for your product
Oberon Heritage Doll Pram White/Navy
$1,299.00

You Saved $!
Save 30% off your chosen accessories
Oberon Heritage Doll Pram White/Navy
Our handmade Oberon Doll's Pram is a beautiful gift for any child. It comes in a high gloss white finish with beautiful hand-painted fine line detail, chrome spoked wheels and fully adjustable hood.
Oberon
The wonderful C-Spring suspension matches that of the full-size Balmoral pram, and the high polish chrome metalwork makes the Oberon look stunning.
Every doll's pram is beautifully finished, and features all of the famous Silver Cross quality and attention to detail. Hand-built in Yorkshire by skilled Silver Cross craftsmen and women, only the finest materials are used.
Features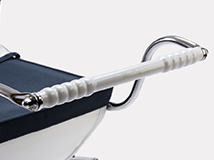 Hood and apron
Fine line detailing
High gloss handle
Chrome spoked wheels
C-sprung suspension
Dimensions
L94cm W45cm H94cm
What's Included
Stunning handmade children's toy doll's pram
Crafted from high-quality fabrics for a premium finish
The inner hood is fully lined in a beautiful Silver Cross pattern
Adjustable hood and apron
Features beautiful chrome Yorkshire Rose detailing
The Oberon body comes in a high polish finish with delicate fine lining detail
Beautifully hand-stitched detailing makes this an extra special gift
The patented C-Spring suspension provides a smooth ride, unique to Silver Cross
The doll's pram wheels are meticulously hand spoked and finished in stunning chrome